Ralf Forster: The Kinamo Story (I)

Saturday January 23, 6 p.m.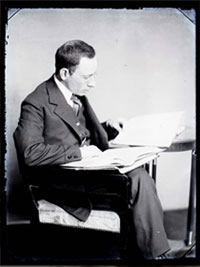 Emanuel Goldberg
Do camera design engineers write film history? – And how!
Welcome to a time travel into the year 1924. In Dresden the inventor Emanuel Goldberg presents a small, black box, just big enough to collect some metres of film. The clou: his so called KINAMO possesses a springwork and rose to the position of the first handycam in history. From now on every amateur can – without shaking – film with his hand. The filmmakers all over Europe are nearly electrified in the face of this new "unleashed" camera.
The dresdner schmalfilmtage will have a look on one of the most spectacular chapters of Dresden film history together with the film historian Ralf Forster (and with the help of several film details). We show an inventor who promoted his invention as a media skilled actor and director by himself.