Mouse on Mars »music clips« visualised electronic music
Saturday 26.01. 22.30
With a bit pride, we are happy to announce that for the first time all the video clips from Mouse on Mars and their secondary projects "Microstoria" and "Lithpos" are going to be shown combined in one programme.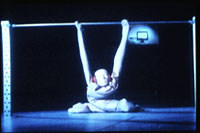 Distroia
The duo Jan St. Werner and Andi Thoma have not only developed a musical self universe with an astonishing organic sound nature, but also the powerful electronic mix of analogue and digital is to be found in their video clips. Super8 stripes within these clips spread no nostalgia horror, but are subversive granules in the zero-one machine. From future-dub to future-pic with the picture worlds of Rosa Barba, Til Obladen, Eric Bernaud, Hendrik John, Markus Popp, Jan St. Werner, Frank Dommert, Sebastian Oschatz, Adam Levite, Jan St. Werner and René Peñaloza-Galván.
With cordial thanks to Frank Dommert from Sonig for the programme assistance.