Yvonne Rainer – Inside Out. Choreography for Film (1966-69)
Thursday January 21, 10.30 p.m.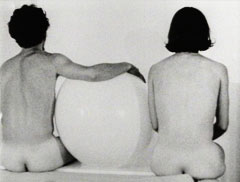 Copyright: Image Courtesy of Video
Data Bank, www.vdb.org.
The American Yvonne Rainer is a filmmaker, dancer and choreographer altogether. Her productions with the Judson Dance Theater in New York rate as the hour of birth of the postmodern dance. Yvonne Rainer directed and choreographed for ten years for stage with big success. In the mid-1970s she took leave from dance cinematically and turned to experimental films and film essays. In America she developed to one of the most influential artists of the 20th century. How it came to that change, how the border crossings between stage and film worked – all these you could only see in Germany in her late long films up to now. In cooperation with Yvonne Rainer's American renting agency the dresdner schmalfilmtage have succeeded to present her early works (originated on Super8 and 16mm) for the first time:
In the mid-1960s, with surroundings of dissolving borders between performance, street theatre and dance, Yvonne Rainer reworked her own choreographies and specially developed new staging techniques for the film camera: "I thought of myself as a dancer who was challenging the boundaries" (Yvonne Rainer). Dance, play, figure and movement and the flow of the 24 pictures per second – it's a medium for Rainer to research for areas of tensions: the distance between figure and image, in- and outside, the snapshots of the human body and the knowledge of its steady decline.
----------------------------stills----------------------------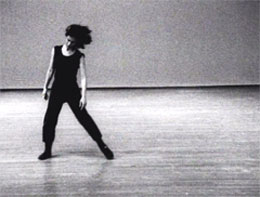 Copyright: Image Courtesy of Video Data
Bank, www.vdb.org.